April 7, 2017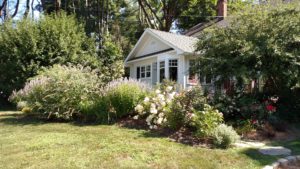 Well it looks like the snow has finally all gone and Spring is in full effect in the Shuswap. This time of year is one of my favourites as it's like a fresh start after our long Winter, and it usually signifies the start of a busy real estate season. Spring has always been a popular time for Seller's to list their home and for good reason, every home looks a little better with green grass and sunshine accompanying it.
Whether you're thinking of listing your home this Spring or are just ready for a fresh start to match the season, here are a couple ideas to give your home a Spring refresh.
Paint Your Front Door
Curb appeal and first impressions matter. Why not show your guests or potential purchasers that your home is well maintained and cared for by giving your front door a fresh coat of paint. A fun, bright colour will instantly add some character and charm along with a lasting impression – everyone is sure to remember the house with the bright yellow door.
Clean Up the Yard
Unfortunately, Canadian winters can be quite harsh on our landscaping, and because of that an annual Spring yard clean up is already part of many homeowners to-do list. Making sure that the outside of your home is in the best shape possible will really help your curb appeal. Besides, the usual pruning and trimming you do, planting some colourful blooms (whether in your garden or planters by the front door) or adding new or additional landscaping is sure to bring a fresh look to your home. You may also consider doing some touch up painting, giving your siding a good clean, or repairing gutters if these things haven't been done in a while.
Change Up Your Décor
Besides cleaning up the outside of your home with the changing seasons, your interior could use some love too. A quick and simple way to add in some fresh Spring colours is by changing up your décor. This doesn't need to a big job or a huge expense. Swapping out throw pillows, throws and area rugs for some in more colourful hues, adding some fresh artwork to the walls or even bringing in fresh flowers can make a big difference to help your home feel like Spring.
Fresh Coat of Paint
No matter the season giving your walls some love with a fresh coat of paint always help freshen your home up. Spring is the perfect time to paint your home with the hibernation of Winter behind us and some much needed sunshine finally coming through the windows. Try painting an accent wall in a bolder colour for some real punch.
Spring Cleaning
This is nothing new to most of you as Spring cleaning is a common occurrence in most households. Spring is the perfect time to give your house a good, deep clean and do some purging and organizing as well. Crack open the windows, let the sunshine in and get your house back in tip-top shape. Then, while you're putting away the winter coats and boots take some time to organize your belongings and take a few things that you no longer need or use to your local thrift store.